Traditional Production
Rums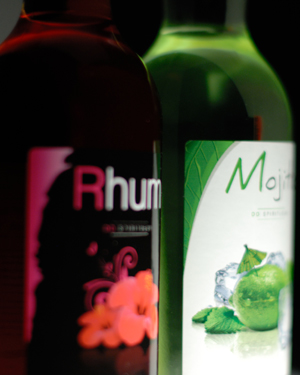 Flavours, colours and aromas brought back from our various travels have allowed us to create new kinds of rum. Designed as digestifs or for cocktails, quick to use, they will whisk you away to hot sands and blue ocean waters. They are sometimes served over crushed ice as an aperitif, and sometimes as a digestif with 2 ice cubes.
Mojito, a cocktail with a salsa soul consisting of Martinique rum, lime, cane sugar and plant extracts, will delight drinkers as an aperitif served over crushed ice with 5 or 6 crushed fresh mint leaves (and 1 or 2 lime slices for decoration). Proportions: 2/3 Mojito, 1/3 sparkling water served in a bell-shaped glass filled 2/3rds full with crushed ice and mint leaves. Try a mojito royal by replacing the sparkling water with a good champagne or Crémant d'Alsace sparkling wine.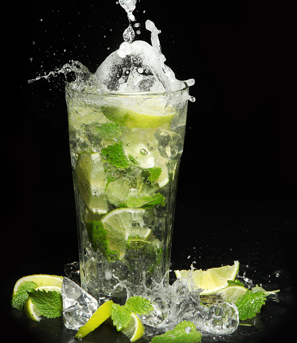 Hibiscus flower rumis delicious both served straight and chilled or over ice as a digestif, or as a base for cocktails with juices or sodas. Composed of Martinique rum, hibiscus flowers, exotic fruits and aromatic plants, you will discover a flash of local colour in your living room or out on the terrace.
Proportions: as a cocktail: 2/3 hibiscus rum, 1/3 orangeade made with orange juice, served in a bell-shaped glass filled 2/3rds full with crushed ice and 4 or 5 slices of orange, plus the decoration of your choice. Alternatively, use 1/3 Schweppes Agrum and slices of pink grapefruit.
As a long drink: pour 5cl of hibiscus rum over 3 ice cubes and finish to taste with fruit juices.